On Sale
Green Camo 20 fl oz Slim
In Stock - Available Now!
Stay hydrated and prepared for any obstacle in your path with the new 20 fl. oz. Green Camo Bindle Slim. Made to fit any holster – or cupholder – the Green Camo Bindle Bottle will keep up to 20 fl. oz. of your favorite drink hot or cold for hours while offering stealthy storage for your small valuables. Inspired by our neighbors just up the I-5 freeway at Camp Pendleton in North San Diego County, outdoor enthusiasts will love the look and enjoy the dual-walled, vacuum-insulated design with 2-in-1 functionality to stash away essential items in need of waterproof or scent-proof safety. The loop lid and matching green band offers easy carry and quick access to your water at a moment's notice.
Dual-walled & vacuum-insulated construction

Keeps drinks hot or cold for hours
Surface stays "sweat-free"

Liquid capacity: 20 fl. oz.
Waterproof & scent-proof storage compartment: 3.2" H x 2.75" W

Can fit a standard credit card or I.D.

18/8 food-grade stainless steel
BPA-free
Ships with standard loop lid
Cup holder friendly!
Height: 12.3''
Width: 2.8''
Weight (empty): .96 lbs
Wide Mouth: 2.2''
Storage Depth: 3.2''
Liquid Capacity: 20 fl. oz.
Sip on top, stash on the bottom. Our hidden-in-plain-sight waterproof storage compartment lets you slyly stash your ID, keys, and cash, along with those special gummy bears you've been saving for later. We ensure you'll always stay hydrated, organized, and discreet.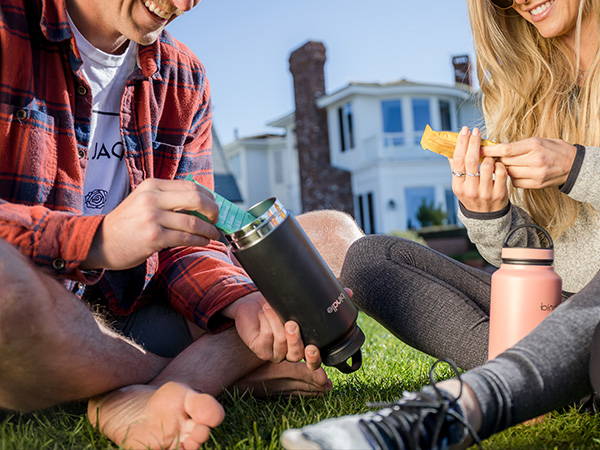 Customer Reviews
09/09/2020
Lori L.
United States
Just Chillin'
I filled my bottle with water & ice when I left the house in the morning. I drank all of the water by lunch. When I went to fill it, there were still ice cubes in the bottle!!!
09/09/2020
Diana S.
United States
Works Great!
Overall, it's a great water bottle. It's sturdy without being super heavy and keeps the water cold for hours. My only dislike is that the bottom cap (storage compartment) is kind of clunky. It doesn't line up easily and does not twist on smooth at all.
09/08/2020
Malia C.
United States
Great product!
Great bottle and I love that I can keep all of my important stuff with me without having my hands full or needing to carry a purse. Also, excellent customer service!
09/08/2020
Brenda B.
United States
Bindle bottle
Love them for the grandkids
09/08/2020
Brenda B.
United States
Bindle bottles
Love them, bought it for the grandkids